Fields of knowledge in school and democratic education
Abstract
This article looks into the role of the educational principle in the thought of Dewey and Gramsci, emphasizing common traits related to the development of a fully democratic education. These notions are analysed within the framework of a broad curricular perspective, one that takes into account global educational effects that can be achieved in the long run. Against this background, the article explores the contents and languages of cultural works that can contribute to the structural development of specific cognitive abilities, or frames of mind.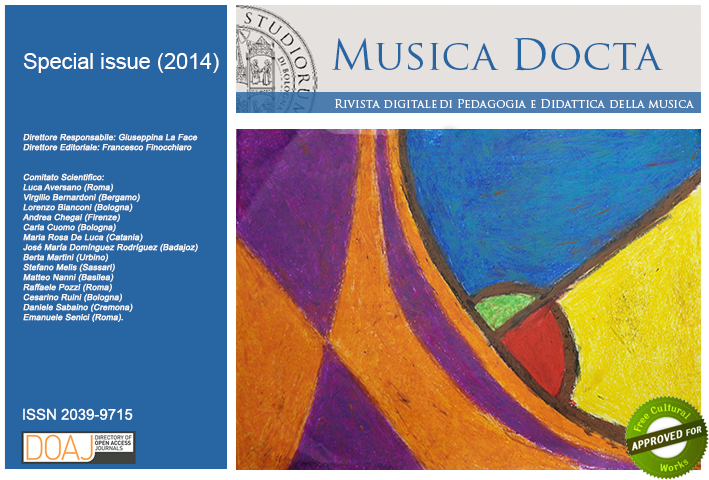 Downloads
Come citare
Baldacci, M. (2014). Fields of knowledge in school and democratic education. Musica Docta, 4(1), 7–12. https://doi.org/10.6092/issn.2039-9715/4302
Licenza
Copyright (c) 2014 Massimo Baldacci
I diritti d'autore e di pubblicazione di tutti i testi pubblicati dalla rivista appartengono ai rispettivi autori senza alcuna restrizione.
Questa rivista è distribuito con licenza Creative Commons Attribuzione - Condividi allo stesso modo 3.0 Unported (licenza completa).
Vedere anche la nostra Open Access Policy.