An education in complexity: The role of contemporary art music
Parole chiave:
theory of complexity, Morin, pedagogy of complexity, contemporary art music, Clementi
Abstract
This paper provides some thoughts on the role of contemporary art music in the pedagogy of complexity. Today, theories of complexity are an area of thought that is largely established in the humanities and social sciences. They emphasize the importance of notions such as discontinuity, contradiction, non-linearity, multiplicity, randomness, and chaos in natural and cultural phenomena. The French epistemologist Edgar Morin, in a series of recent publications, has developed a pedagogy based on the theory of complexity. Contemporary art music contains a large repertoire of works, on which to build a pedagogy and didactics of complexity in music. The paper gives an example of use and didactic transposition of a piece, B.A.C.H. for solo piano (1970), by Italian composer Aldo Clementi.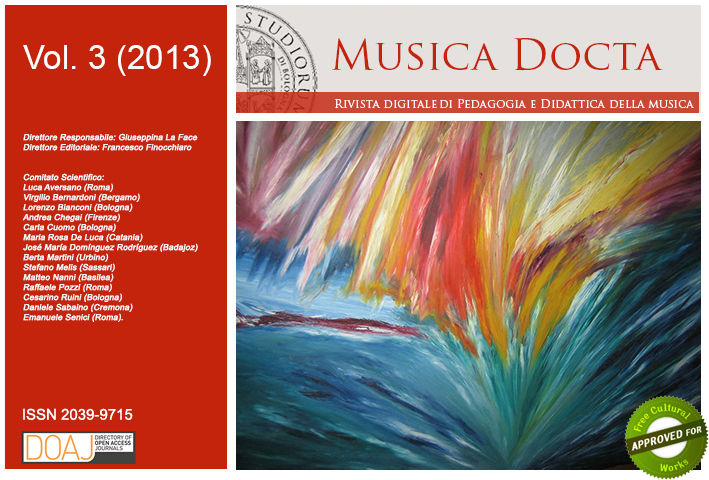 Downloads
Come citare
Pozzi, R. (2013). An education in complexity: The role of contemporary art music. Musica Docta, 3(1), 63–69. https://doi.org/10.6092/issn.2039-9715/4018
Licenza
Copyright (c) 2013 Raffaele Pozzi
I diritti d'autore e di pubblicazione di tutti i testi pubblicati dalla rivista appartengono ai rispettivi autori senza alcuna restrizione.
Questa rivista è distribuito con licenza Creative Commons Attribuzione - Condividi allo stesso modo 3.0 Unported (licenza completa).
Vedere anche la nostra Open Access Policy.