The pedagogical nature and political relevance of the notion of 'musical composition'
Abstract
This contribution discusses the complex relationship between the notion of musical composition and the fields of education and politics. Starting from a historical-lexicological analysis of the word "composition", the article illustrates the semantic components of the term, and the common trait they share – the constant reference to a rational principle of aggregation of different elements, to which the compositional activity, in its possible expressions as a sound organization project, is always reducible. Musical composition is therefore viewed as the key metaphor in the search for a solution to the pressing problem of our contemporary world – how to promote social cohesion between people from different cultures, and how to combine different identities into a new common identity.
In fact, art music, in its constant oscillation between note text and interpretation, reveals an intimate kinship with the legal paradigm, which lies at the basis of any social organization.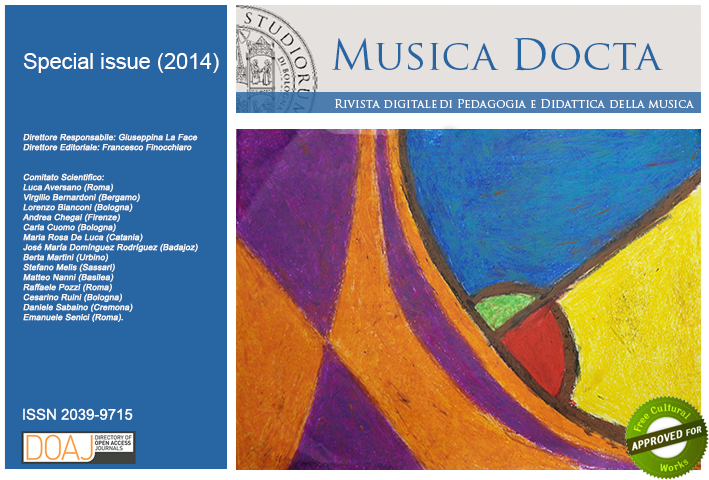 Downloads
Come citare
Aversano, L. (2014). The pedagogical nature and political relevance of the notion of 'musical composition'. Musica Docta, 4(1), 85–90. https://doi.org/10.6092/issn.2039-9715/4311
Licenza
Copyright (c) 2014 Luca Aversano
I diritti d'autore e di pubblicazione di tutti i testi pubblicati dalla rivista appartengono ai rispettivi autori senza alcuna restrizione.
Questa rivista è distribuito con licenza Creative Commons Attribuzione - Condividi allo stesso modo 3.0 Unported (licenza completa).
Vedere anche la nostra Open Access Policy.