Mozart in Madrās: Global Learning and Western Art Music
Parole chiave:
Internationalisation, globalisation, India, Mozart, Rahman
Abstract
Recent developments in university internationalisation, including transnational partnerships between Western and Eastern institutions, raise challenging questions about the global mutability of arts and humanities degree programmes such as music. This article considers the international educational significance of western art music from the perspective of transnational undergraduate teaching, based on the author's experience of working at KM Music Conservatory in Chennai, India.  A summary of art music's problematic role in contemporary Western society leads to consideration of the global expansion of Western art music as practice and academic discipline. The reflective discussion focuses on several core pedagogical issues associated with the teaching of Western classical music in a non-Western environment, particularly the relevance of the historical contexts of colonialism and post-colonialism in shaping the meanings of the art form in present-day India.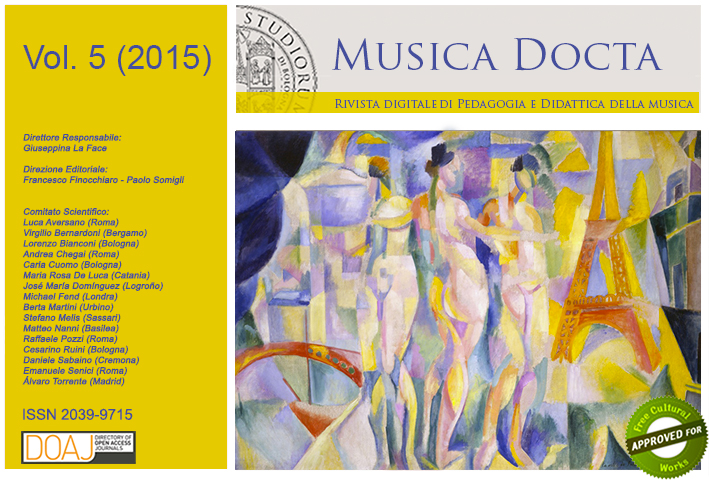 Downloads
Come citare
Taylor, P. (2015). Mozart in Madrās: Global Learning and Western Art Music. Musica Docta, 5(1), 113-125. https://doi.org/10.6092/issn.2039-9715/5874
Licenza
Copyright (c) 2015 Philip Taylor
I diritti d'autore e di pubblicazione di tutti i testi pubblicati dalla rivista appartengono ai rispettivi autori senza alcuna restrizione.
Questa rivista è distribuito con licenza Creative Commons Attribuzione - Condividi allo stesso modo 3.0 Unported (licenza completa).
Vedere anche la nostra Open Access Policy.