Theory and Practice of New Music in the Academic Courses of the Moscow State Conservatory
Abstract
Soviet cultural politics was completely determined in the 1930s and remained unchangeable almost until the collapse of the USSR (1991). Musical creativity was subject to the dictates of the strict ideological standards of socialist realism, which left no room for free artistic experimentation. This situation continued in more liberal times, which began after Stalin's death.
The development of the Russian post-war avant-garde began in the second half of the 1950s, with the first dodecaphonic work dating from 1956: Musica Stricta for piano by Andrei Volkonsky. The truly new works gradually penetrated into concert halls; new music became known and even popular among concertgoers, who perceived it as a symbol of spiritual freedom.
All this had no relation yet to educational institutions and to teaching, which remained hopelessly conservative. The real institutional changes came only after the collapse of the USSR in the 1990s. Back then, there were three main directions associated with new music: first of all, the establishment of new composers' associations, such as the Association of Modern Music and the Centre for Contemporary Music; secondly, festivals of contemporary music, such as the festival Moscow Autumn and the annual international festival of contemporary music Moscow Forum; thirdly, the performing collectives connected to them, such as the ensemble Studio for New Music.
These institutions were established in the Moscow State "Tchaikovsky" Conservatory, and therefore played a crucial role in the formation of new teaching principles for contemporary music.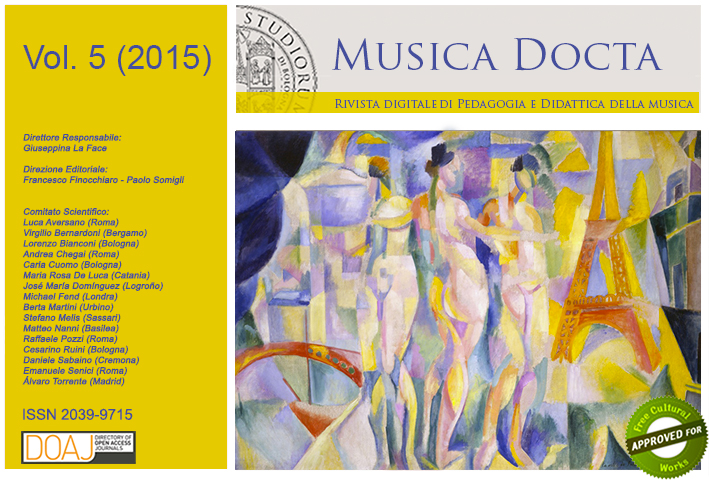 Downloads
Come citare
Savenko, S. (2015). Theory and Practice of New Music in the Academic Courses of the Moscow State Conservatory. Musica Docta, 5(1), 87–93. https://doi.org/10.6092/issn.2039-9715/5875
Licenza
Copyright (c) 2015 Svetlana Savenko
I diritti d'autore e di pubblicazione di tutti i testi pubblicati dalla rivista appartengono ai rispettivi autori senza alcuna restrizione.
Questa rivista è distribuito con licenza Creative Commons Attribuzione - Condividi allo stesso modo 3.0 Unported (licenza completa).
Vedere anche la nostra Open Access Policy.