Music History Pedagogy on the Ground Floor
Parole chiave:
Pre-collegiate teaching, Teacher training, Public musicology, Networking
Abstract
This article urges musicologists to consider ways in which to connect with pre-collegiate education. Ideas presented include connecting with local schools and national teacher organizations, creating courses and workshops, and looking for ways our research might be presented to a broader audience. Extending our outreach promotes the health of our discipline and strengthens our presence in the face of financial setbacks and imposed curricular revisions.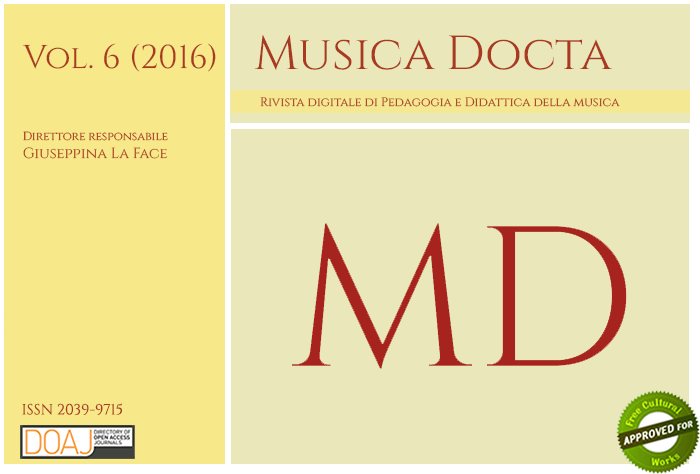 Downloads
Come citare
Davis, J. A. (2016). Music History Pedagogy on the Ground Floor. Musica Docta, 6(1), 19–26. https://doi.org/10.6092/issn.2039-9715/6562
Licenza
Copyright (c) 2016 James A. Davis
I diritti d'autore e di pubblicazione di tutti i testi pubblicati dalla rivista appartengono ai rispettivi autori senza alcuna restrizione.
Questa rivista è distribuito con licenza Creative Commons Attribuzione - Condividi allo stesso modo 3.0 Unported (licenza completa).
Vedere anche la nostra Open Access Policy.