Constructing Music History in the Classroom
Parole chiave:
Music history, Music education, Methodology of Historical research, Laboratory
Abstract
The paper focuses on some aspects of the teaching-learning of Music History in the school education system. It concentrates upon contents, strategies and methods of teaching transposition of historical and musical knowledge as a training model for music education oriented on the comprehension of music as culture. Based on this branch of teaching's model, epistemological assumptions are discussed and relied to various degrees of education, considering also the challenges that the teacher faces in the didactic transposition process of topics.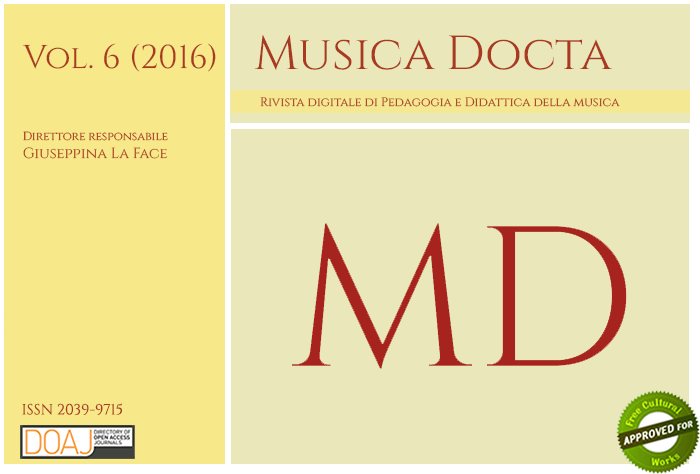 Downloads
Come citare
De Luca, M. R. (2016). Constructing Music History in the Classroom. Musica Docta, 6(1), 113–121. https://doi.org/10.6092/issn.2039-9715/6577
Licenza
Copyright (c) 2016 Maria Rosa De Luca
I diritti d'autore e di pubblicazione di tutti i testi pubblicati dalla rivista appartengono ai rispettivi autori senza alcuna restrizione.
Questa rivista è distribuito con licenza Creative Commons Attribuzione - Condividi allo stesso modo 3.0 Unported (licenza completa).
Vedere anche la nostra Open Access Policy.