Musikpädagogik und Heterogenität, a cura di Jürgen Vogt, Frauke Heß e Christian Rolle
Abstract
The volume in review collects the proceedings of the conference on the relationship between music pedagogy and diversity, held at the Wissenschaftliche Sozietät Musikpädagogik on May 6 and 7 2011 at Kassel University. Contributions by: Jürgen Vogt, Thomas Ott, Markus Brenk, Alexandra Kertz-Welzel, Hans Jünger, Jürgen Oberschmidt, Maria Luise Schulten and Alexander Cvetko.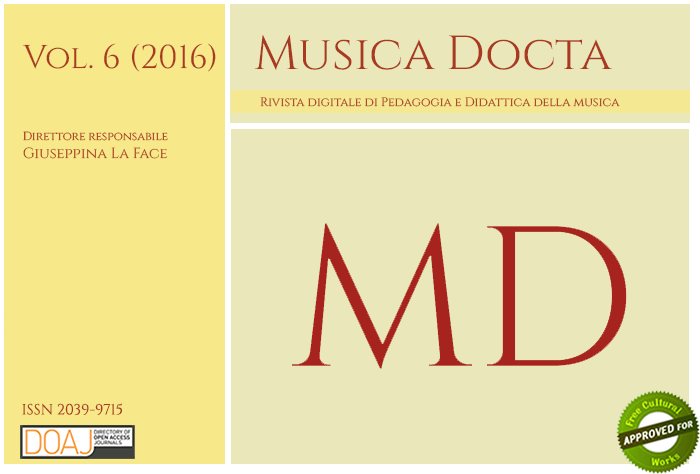 Downloads
Come citare
Finocchiaro, F. (2016). Musikpädagogik und Heterogenität, a cura di Jürgen Vogt, Frauke Heß e Christian Rolle. Musica Docta, 6(1), 137–141. https://doi.org/10.6092/issn.2039-9715/6580
Licenza
Copyright (c) 2016 Francesco Finocchiaro
I diritti d'autore e di pubblicazione di tutti i testi pubblicati dalla rivista appartengono ai rispettivi autori senza alcuna restrizione.
Questa rivista è distribuito con licenza Creative Commons Attribuzione - Condividi allo stesso modo 3.0 Unported (licenza completa).
Vedere anche la nostra Open Access Policy.